Get one-to-one consultation with the mentoring experts at MENTOR Independence Region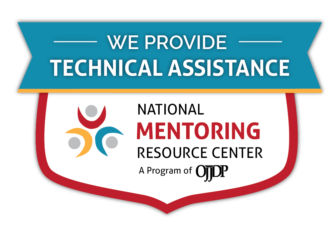 As an affiliate Mentoring Partnership of MENTOR: The National Mentoring Partnership, the Mentoring Partnership & Resource Center (MPRC) is proud to be a technical assistance provider for The National Mentoring Resource Center (NMRC), a project of The Office of Juvenile Justice and Delinquency Prevention and MENTOR.
This youth mentoring resource is no-cost for programs and aims to strengthen mentoring quality and effectiveness. The NMRC is comprised of three components: the National Mentoring Resource Center Research Board; the resource center website; and no-cost specialized technical assistance for mentoring programs. The resources and technical assistance are in alignment with the national standards for quality, evidence-based mentoring, The Elements of Effective Practice for Mentoring™. The goal of the NMRC is to improve the quality and effectiveness of youth mentoring programs across the nation.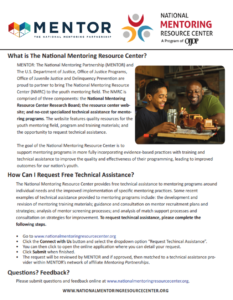 Download this handy flyer with more info about the NMRC and instructions on how to apply for no-cost technical assistance.
---
Need more help applying for technical assistance? Check out this great video tutorial!
---
Success Stories
They connected with our program team, enabling us to develop knowledge of mentoring as well as techniques for delivering best practices… Our relationship with them gives our program and our mentors a solid foundation from which to launch and sustain over time. We couldn't be more appreciative.
I wanted to extend a special thank you for your service. As an organization we have advanced greatly due to your hard work with our technical assistance.
The technical assistance received from the MPRC gave us a top notch mentor training program that has allowed the staff at ECS to feel confident in the proper training and onboarding of our mentors.